Click here for English
Van alle wargames is Memoir '44 zeker een van de toegankelijkste en populairste. Zin om het ook eens te proberen?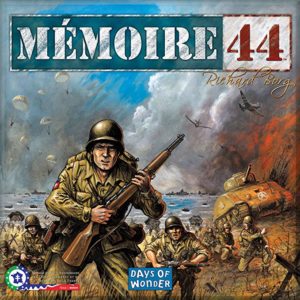 Schrijf je dan in voor de Rabenhaupt Memoir '44 demo op 1 maart, tijdens de Rabenhaupt lange spellendag. Onder de deskundige begeleiding van Memoir '44 experts Eilko en Joost spelen we dan niet zomaar Memoir '44, maar Memoir '44 "Operation Overlord"!
"Operation  overlord" is de spectaculaire 4 tegen 4 versie van Memoir '44. Elk team heeft een generaal die met behulp van kaarten nogal vage orders geeft aan zijn 3 commandanten die de troepen in het linker, rechter en middendeel van het speelveld aansturen. Er mag echter niet gepraat worden waardoor er vaak een georganiseerde chaos ontstaat. Een mooie mix van misverstanden en hilariteit dus. Het team dat als eerste het doel bereikt wint het spel.
We plannen een sessie om 14:30 en een sessie om 17:00. Een potje duurt ongeveer 90 minuten en bij elke sessie is er plek voor 6 geïnteresseerden.
Je kunt je hier aanmelden
Enkele dagen voor de lange spellendag sturen we nog aanvullende informatie. Er is geen ervaring met Memoir '44 nodig en je hoeft verder ook niks voor te bereiden.
https://boardgamegeek.com/boardgame/37911/memoir-44-operation-overlord
Een goede indruk van Operation overlord krijg je hieronder. En ja, je mag je thematisch aankleden 🙂
English
Memoir 44 is one of most popular and accessible wargames. Would you like to try it for yourself?
Sign up for the Rabenhaupt Memoir '44 demo event on the 1 March, during the Rabenhaupt "Day of long games".  Under the supervision of Rabenhaupt Memoir '44 experts Eilko en Joost we won't be just playing regular Memoir '44, but Memoir 44 "Operation Overlord" version!
Operation Overlord is the spectacular 4-against-4 variation of Memoir '44. Each team has a general that, using cards, will give rather vague commands to his/her 3 field officers. Each officer commands the armies on the left, right or middle section of the board. The cards are the only means of communication and no discussion around strategy or interpretation is allowed.
This creates a great organized chaos, with a lot of misunderstanding and (hopefully) laughter. First team to reach its objective wins the game!
We are planning a session at 14:30 and a session at 17:00. A game of Memoir 44 Operation Overlord takes about 90 minutes.
You can sign-up here
A couple of days before the start of the event you will receive further information. No memoir 44 experience required and no need to prepare anything
The following video will give you a good impression what Operation overlord  is all about. And yes, you are allowed to wear thematic clothing!